Sports broadcasting giant ESPN wanted to make a sexy new mobile app for die-hard Formula 1 fans. Something that went beyond merely reporting results and rankings. It needed to have depth and beauty. It had to bring the entire story of Formula 1 into the hands of its users.
To create the ultimate F1 App, we had to get inside the minds of race fans to understand how to give them exactly what they want, when they want it.
We based the app on ESPN's existing F1 website: refining the content extensively for mobile, creating a clean design and giving it a slick coat of official ESPN F1 red.
A 'fluid canvas'
The Home Screen is a fluid canvas, prioritising content based on what's relevant right now:
Next race imminent? You'll see the race calendar with details of the upcoming event.
Between races? Read the latest editorial.
Race in progress? Check out who's leading and what lap they're on.
Content is grouped into Hubs, and is easy to navigate via intuitive left/right swiping controls: e.g. in Calendar view swipe backwards to see the previous race results, or forwards for upcoming race details.
Live mode
We recognised that true F1 fans are going to have their eyes on the TV during live races, so we designed the app to function as a useful 'second screen' featuring:
Additional race commentary.
Live photo stream from ESPN's trackside photographers.
Live race data and track conditions.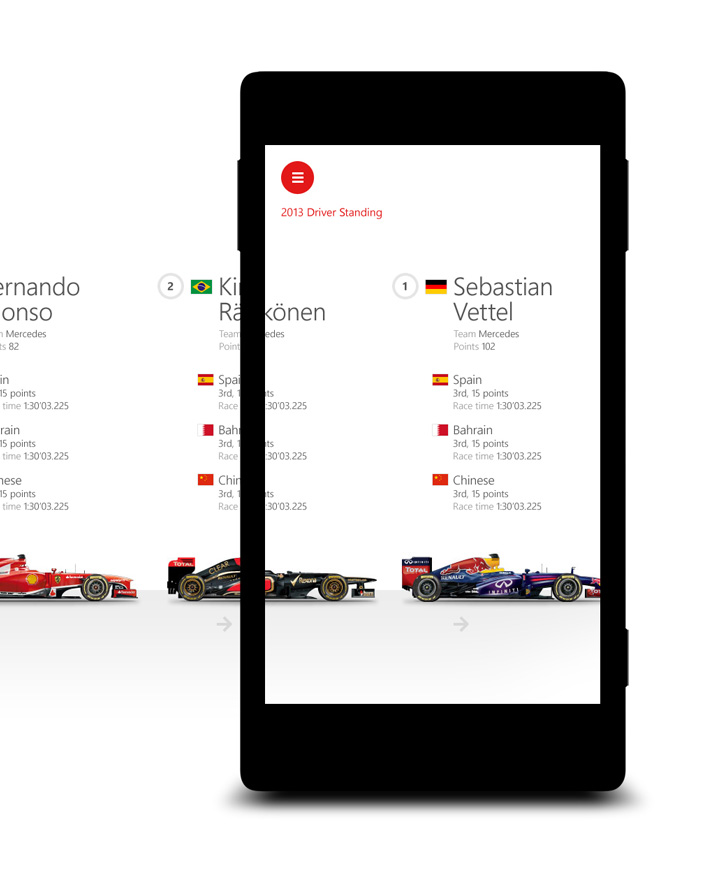 The stories behind the stats
Between races, get your daily F1 fix with rich editorial following the human drama, personalities and controversies of F1 racing.
High quality ESPN content updated daily.
News, articles and video.
Magazine-style features with slick photography.
Easy to scan in mobile-friendly, readable chunks.
No boring tables!
Driver and Team rankings usually look exceedingly dull. We chucked out the typical "boring table of numbers" approach and made things way more gorgeous, lining up photos of drivers' cars like an F1 starting grid.
We even re-drew the official circuit diagrams in a more elegant style, removing superfluous elements to reveal the unique shape and personality of each track.
ESPN knows that the love of sport goes beyond the bare statistics. With its modern interface delivering the entire F1 story from leaderboard to behind-the-scenes, the new ESPNF1 app delivers exactly what racing fans crave: happy immersion in the passion that they live and breathe daily.